5 Benefits of Properly Brushing Your Teeth
Dental health is a crucial aspect irrespective of your age. That's why experts recommend regular dental checkups and proper cleaning of teeth. Here are five ways regular brushing of teeth benefits you.
Freshen Your Breathe
Regular brushing of teeth is a useful way of preventing bad breath and halitosis. Flossing and brushing might be a good starting point, but people with underlying dental problems might need to visit a dentist.
You may still struggle with bad breath despite brushing your teeth if you have conditions such as crusty deposit, tartar buildup, and traps bacteria. However, people can use techniques such as scaling to remove any tartar buildup along their gum and freshen up their breath, which results in restored self-confidence.
Save on Restorative Dentistry
Research has shown that one of the reasons many people postpone appointments with their dentist is to save money. However, the cost of cleaning and polishing up your teeth might be less than the cost of treating periodontal disease or filling a cavity. As such, a few preventive care tips can help everyone no matter the age to avoid costly and unpleasant dental problems down the road.
The mouth contributes to the health of the rest of the body than you probably realize. Though this may sound odd, regular brushing of teeth can help reduce the number of trips to a dental practitioner and lower the risk of chronic conditions such as stroke and heart attack.
Avoid Gum Disease
Plaque not only causes your teeth to decay but the gum as well, especially when it builds up below the gum line. Allowing gum disease to advance can result in tooth loss. Fortunately, regular teeth brushing can reduce the buildup of plaque and lower the chances of gum diseases affecting you.
Habits such as using tobacco products and drinking wine, tea, and coffee can leave your teeth stained. However, brushing helps remove any stain, but visiting a dentist for thorough teeth polishing and cleaning can further brighten them up. Preventing cavities is the primary reason many people visit their dentists. Holes form when plaque starts to build up and eat away enamel, the outer layer of the teeth. Plaque refers to the sticky bacteria that clings to the gum and teeth.
However, flossing and brushing can help prevent the buildup of plaque, but professional teeth cleaning and polishing can even be more effective. It is pretty hard to control the glucose level in the blood when you have gum disease. However, not everyone with chronic diseases such as heart disease, diabetes, and stroke is susceptible to tooth decay and gum disease. however, an electric toothbrush can help keep your gum and tongue healthier and cleaner than ever.
Severe gum disease can interfere with the control of blood glucose, and ultimately raise the odds of becoming diabetic.
Prevent Tooth Loss
Plaque buildup causes periodontal disease, gingivitis, and other gum diseases that cause teeth loss. An adult with these diseases may lose a lot of teeth if the condition is left untreated. Failure to prevent further buildup of plaque will allow them to move down to the teeth, and this may make an adult lose some teeth.
However, consistent brushing of teeth can help prevent plaque buildup and teeth loss. That means you won't spend a lot of money on dental checkup and teeth treatment. Brushing your teeth daily can be a useful way of preventing several teeth problems. Avoiding costly procedures and protecting your oral health will help you save hundreds or ten thousands of dollars in the long run.
Prevent Diabetes
Brushing your teeth daily brings with it a couple of benefits. Besides, dental experts recommend regular dental visits to allow for the inspection of any underlying issue. Regular brushing helps keep your teeth sparkling clean and healthy. It can save a child or adult a lot of money in oral treatment.
People who brush frequently rarely have cases of strokes, heart attacks, and gum disease. Besides lessening the risk of developing a heart attack and becoming diabetic, many other health benefits result from regular teeth brushing. Of course, you learned to brush your teeth from childhood, and that has contributed a lot to your adulthood health. However, oral health goes beyond just clean teeth to be the portal to your overall health.
Gum Contouring Before And After
A gum contouring procedure can help to improve the appearance of your smile by reshaping your gums. This can be done for cosmetic reasons, or to improve oral health. Your dentist will use a laser to remove excess tissue and sculpt your gums into the desired shape.

The results are immediate and you should see a significant improvement in the look of your smile.
Have you ever considered getting your gums contoured? If not, you may want to after seeing these amazing before and after photos. Gum contouring is a quick and easy way to improve the look of your smile.

It can make your teeth look longer and your smile more symmetrical. If you have uneven gums or gums that cover too much of your teeth, gum contouring can help. The procedure involves removing excess gum tissue and shaping the gums to create a more aesthetically pleasing appearance.

It's typically done in one visit to the dentist and doesn't require any downtime.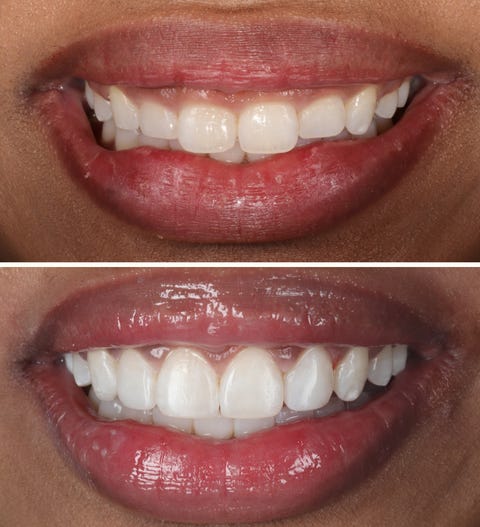 Credit: www.cosmopolitan.com
How Long Does Gum Contouring Last?
If you're considering gum contouring, you may be wondering how long the results will last. Gum contouring is a cosmetic procedure that can give your smile a more even and symmetrical appearance. The results are usually permanent, but there are a few factors that can affect how long they last.

The first thing to keep in mind is that gum contouring is not a one-time fix. You may need to have the procedure repeated every few years to maintain your results. Additionally, your oral hygiene habits can impact the longevity of your gum contouring results.

Be sure to brush and floss regularly, and see your dentist for regular cleanings and checkups. Finally, it's important to note that gum tissue is constantly growing. This means that even if you don't have the procedure repeated, your gums may eventually grow back to their original shape.

If you're unhappy with the way your gums look after contouring, you may want to consider other options such as veneers or dental implants.
Is Gum Contouring Worth It?
Are you unhappy with the shape of your gums? If so, you may be considering gum contouring. This cosmetic dentistry procedure can change the shape of your gums, making them look more symmetrical and aesthetically pleasing.

But is gum contouring worth it? The answer to this question depends on a few factors. First, you'll need to consult with a skilled cosmetic dentist to see if you're a good candidate for the procedure.

Not everyone is a good fit for gum contouring. For example, if you have extensive gum recession, this may not be the best option for you. Second, you'll need to consider your goals for treatment.

What are you hoping to achieve by undergoing gum contouring? If your goal is simply to improve the aesthetics of your smile, then this may be a good option for you. However, if you're hoping to correct functional problems like tooth sensitivity or difficulty chewing, then other treatments may be more appropriate.

Finally, you'll need to weigh the risks and benefits of gum contouring. Like any dental procedure, there are some risks involved in gum contouring. These include bleeding and swelling of the gums, as well as temporary tooth sensitivity.

However, these side effects are usually mild and go away within a few days after treatment. Overall, gum contouring is considered safe when performed by an experienced dentist. So is gum contouring worth it?

That's ultimately up for you to decide!
How Much Does It Cost to Reshape Your Gums?
Your gum line can make a big difference in the way your smile looks. If you have gummy smiles, it may be something that you are self-conscious about. You might wonder how much it would cost to reshape your gums and improve your smile.

The good news is that there are a number of options available to help you achieve the look you desire. The cost of treatment will vary depending on the extent of work needed and the type of procedure chosen. Some people may only need minimal work done to their gums, while others may require more extensive treatments.

In general, the cost of treatment will range from $500 to $3000. There are a number of factors that will affect the cost of treatment, such as: The severity of gum disease – More extensive treatments will be required for those with severe gum disease.

The type of procedure chosen – There are a number of different procedures that can be used to improve the appearance of your gums. Your dentist will recommend the best option for you based on your individual needs. The experience level of your dentist – Dentists with more experience may charge higher fees than those who are just starting out.

However, this is not always the case, so it is important to ask about fees upfront before making any decisions.
Does Gum Contouring Hurt?
If you're considering getting your gum contouring done, you might be wondering if it's going to hurt. The short answer is: maybe. It depends on how sensitive your teeth and gums are, and how much work needs to be done.

If your gum contouring is just a minor procedure, then the pain will probably be minimal. You might feel a little bit of pressure or discomfort while the dentist is working on your teeth, but it shouldn't be too bad. However, if you need more extensive work done (such as if you have a lot of gum tissue that needs to be removed), then the pain could be more significant.

In this case, your dentist may give you a local anaesthetic to numb the area before starting the procedure. Overall, gum contouring is usually not a very painful procedure. But if you're worried about it, talk to your dentist beforehand so they can let you know what to expect and provide additional pain relief if necessary.
Gum Contouring Can Transform Your Smile
Gum Contouring Gone Wrong
Gum contouring is a cosmetic dental procedure that can be used to improve the appearance of your smile. It involves reshaping the gum tissue around your teeth so that they appear more symmetrical and evenly spaced. While this procedure can give you a great new look, it's important to be aware of the potential risks involved.

One of the most common complications associated with gum contouring is uneven results. This means that your gums may not end up looking exactly as you had hoped. In some cases, this can be corrected with additional treatments, but in others it may be permanent.

Another possible complication is infection. Because gum contouring involves cutting into the soft tissue around your teeth, there is a risk of developing an infection at the site of incision. Be sure to follow your dentist's instructions for care after the procedure to help reduce your risk of infection.

Finally, gum contouring can sometimes lead to damage to the underlying bone or tooth roots. This complication is more likely if the procedure is performed improperly or if there are preexisting conditions present in your mouth (such as periodontal disease). If you experience any pain or sensitivity after gum contouring, be sure to contact your dentist right away as this could indicate damage to the tooth root.

While gum contouring can give you a beautiful new smile, it's important to be aware of these potential complications before undergoing treatment. Be sure to discuss all risks and benefits with your dentist prior to having any work done on your teeth.
Conclusion
Gum contouring can give you a more aesthetically pleasing smile by adjusting the height of your gums. It can also be used to even out your gum line, or to make your teeth appear longer. Gum contouring is a quick and easy procedure that can be done in one visit to the dentist.