Fashion Styling With the Chino Link Chain
The Chino Link Chain is one of the most less talked about chains of all brands across the jewelry industry. It's nearly an exclusive item in the southern urban community around the Texas area. Nonetheless, Chino has its roots which continues to survive for several reasons that have resulted in it maintaining major value. For instance, one can argue the growing popularity and inauguration of the chain started in the South, particularly Texas that sparked a local treasure. Up to this day, Southern U.S. citizens adorns the necklace in which has created a market for the jewelry accessory.
However, one cannot deny how beautiful and stunning the design reflects off the neck of the wearer of the necklace. Today, we are going to layout a few details about this unique piece of jewelry that puts it in the line with other well-known brands such as the Cuban Link Chain and the classic Figaro chain. The architect of the necklace was built with a simple spiral structure that is becoming more popular everyday. Nonetheless, let's jump into its genuine foundational roots, and clothing trends you can wear to compliment the Chino Link Chain.
Components of The Chino Link Chain
Over the years, we've observed many jewelry necklaces and have noticed how they are made piece by piece. The standard method for creating a chain has been the special metal steel, occasionally, they're processed differently. They are bent into a spiral motion shape, cut, flattened, and wielded. The main detail traits of the chains are the designs which are mainly oval, square, and circles that are linked together.
Chino – An authentic Chino chain consist of handmade double interlocked spiral metal circle pieces. They are clipped and linked together that appear and feel to be thicker than most chains.
Figaro – Made up of a set of 3 or 5 oval and one elongated circle following all linked as one.
Cuban – A combination of oval metal rings that are linked, twisted, mended, and styled.
Overall, these chains come in several shapes and sizes, but they carry nearly the same reputation. They are comprised of metal and are designed and fashioned with many desirable additional elements such as diamonds, silver, and gold. What kind of clothing fit well with a Chino Link Chain? Both men and women can enjoy this. So let's deliberate and reveal clothing that mesh great with the Chino chain brand.
What Should You Wear With A Chino Link Chain?
Rather if your standard dress-code is southern suburban or more urban hip hop, a Chino Link Chain can enhance and add to the outfit of your choice. With a little bit creativity and imagination, you could put together a decent two piece suit or casual outfit. Women, you combine an awesome drip as well, not to mention a gorgeous one-piece that goes brilliantly with a Chino Link Chain. Without further do, let's discuss how to style and profile with the Chino brand for both men and women.
Men's Fashion Styling With Chino Chain
The original style of clothing to wear for these type of chains for men have mostly been urban in the past and modern times. The usual outfit you'd often see men sport with their Chino chain is a solid color fitted shirt and fitted pants or jeans. The outfit would be paired with a set of solid black or white Nikes or any fly shoe brand. What makes the Chino chain standout are colors, remember to match shirt with shoes or pants with shoes.
Khaki cargo pants or shorts has always meshed nicely with the chain. Designer fit style t-shirts or polo unbutton may look great with the Chino chain as well. The usual size varies from men to women. Occasionally, men would wear between 100-235 grams. Majority of men chain styles are thick and long versus women styles that are much thinner and shorter.
Women's Fashion Style With Chino Chain
Against the skin of a woman, these type of chains are absolutely gorgeous and complimentary, especially the choker Chino Link chain. The classiest Gala style type of outfit women would wear with a 25-80 gram gold Chino chain is in the realm of a multi-colored tube dress from Maxi with a matching chino gold bracelet. A fashionable casual outfit that looks spectacular with the chino chain on the ladies are tights or skin tight jeans/shorts with a tube top w/straps or without.
Last but not least, the Chino Link Chain has several diverse styles for you to choose from to mesh with your own unique style. The jewelry industry continues to grow and the Chino link distinctive brand has shown promise to become one of the best chains around the necks of many.
Balanced Babe Holistic Lifestyle Nutrition Coach
The Balanced Babe is a holistic lifestyle nutrition coach who helps women achieve their ideal body weight and composition through proper nutrition and exercise. TheBalanced Babe provides individualized meal plans and workout programs based on the client's unique goals, preferences, and lifestyle. The goal of theBalanced Babe is to help clients develop healthy habits that they can maintain for life.
If you're looking for some help getting your eating habits in check, Balanced Babe is here to help! As a holistic lifestyle nutrition coach, she'll work with you to figure out what changes need to be made in order to see results. Whether it's cutting out processed foods or learning how to cook healthier meals, she has the knowledge and experience to get you on the right track.

Plus, she offers ongoing support so you can stay on track long-term. Visit her website today and schedule a free consultation!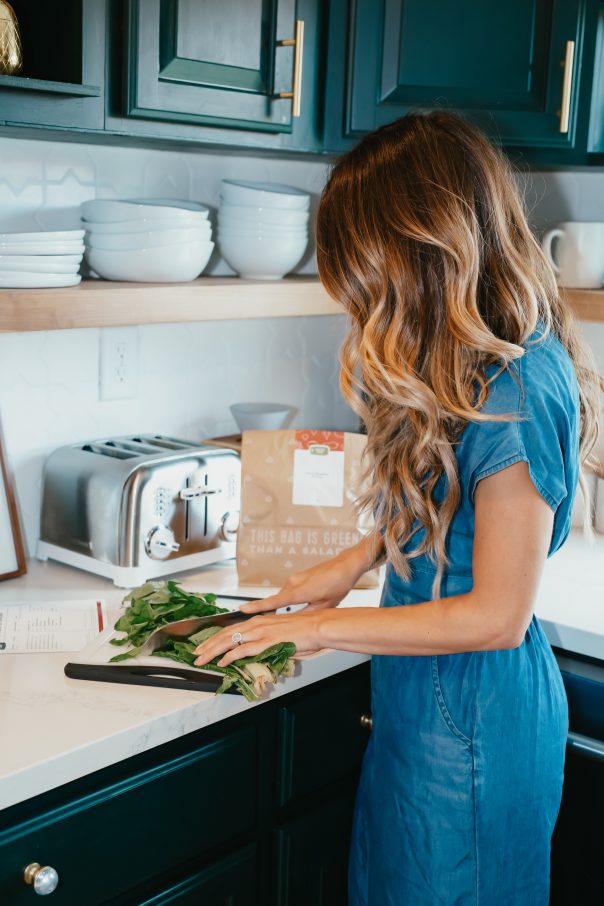 Credit: www.sweetandfreelife.com
What is the Balanced Babe Holistic Lifestyle Nutrition Coach
If you're looking to adopt a holistic lifestyle, you may be wondering what exactly a holistic nutrition coach is and what they can do for you. A holistic nutrition coach is someone who can help guide you through making healthy choices that work best for your unique body and situation. They take into account all aspects of your life, including your mental and emotional health, when providing advice and support.

A balanced babe holistic lifestyle nutrition coach helps you understand how the food you eat affects your overall health. They also teach you about portion sizes, nutrient-dense foods and how to create a healthy balance between exercise and rest. In addition, they can offer guidance on stress management techniques and other lifestyle changes that can improve your health.

If you're interested in working with a holistic nutrition coach, it's important to find one that is certified by a reputable organization such as the National Association of Nutrition Professionals (NANP). Working with someone who has the proper credentials ensures that they have the knowledge and experience necessary to help you reach your goals.
What are the Benefits of the Balanced Babe Holistic Lifestyle Nutrition Coach
If you're looking for a way to improve your overall health and wellness, you may want to consider the Balanced Babe Holistic Lifestyle Nutrition Coach. This program offers a comprehensive approach to nutrition and health, providing you with the tools you need to make lasting changes in your life. The first benefit of the Balanced Babe Holistic Lifestyle Nutrition Coach is that it can help you identify the foods that are best for your individual needs.

Everyone has different nutritional requirements, so it's important to find a plan that works for you specifically. The coach will work with you to figure out which foods will help you reach your goals, whether it's losing weight, gaining muscle, or simply improving your overall health. Another great benefit of the Balanced Babe Holistic Lifestyle Nutrition Coach is that it can help you learn how to cook healthy meals.

Many people think that eating healthy means giving up all of their favorite foods, but this isn't the case at all! The coach will teach you how to prepare delicious recipes that are packed with nutrients and low in calories. You'll be surprised at how easy it is to eat healthy when you have access to such tasty options.

Finally, the Balanced Babe Holistic Lifestyle Nutrition Coach can help you develop better habits overall. Healthy eating is just one part of living a healthier lifestyle; physical activity and stress management are also key components. The coach will work with you on creating a balanced routine that fits into your busy schedule and helps reduce stress levels.

By making small changes in your daily routine, you'll be amazed at how much better you feel both physically and mentally!
Additionally, Participants in the Program Often Report Feeling More Confident And Empowered to Make Healthier Choices in Their Lives
It's no secret that leading a healthier lifestyle can be daunting. Whether it's finally quitting smoking, working out more often or eating better, making these changes can be difficult. However, there is one program that has been shown to help people make lasting changes in their lives – the Wellness Recovery Action Plan (WRAP).

WRAP is a wellness and recovery program that was developed by Mary Ellen Copeland. It is based on the belief that everyone has the ability to recover from mental illness and live a fulfilling life. The program consists of creating a personal WRAP plan which includes identifying personal triggers, developing coping strategies and setting goals.

Additionally, participants in the program often report feeling more confident and empowered to make healthier choices in their lives. If you are looking for a way to improve your health and wellbeing, consider giving WRAP a try. It just might be the change you need to finally lead the healthy life you've always wanted!
How Does the Balanced Babe Holistic Lifestyle Nutrition Coach Work
If you're looking to improve your diet and live a healthier lifestyle, the Balanced Babe Holistic Lifestyle Nutrition Coach can help. This coach provides personalized nutrition and wellness programs that are tailored to your individual needs. The coach will work with you to create a plan that includes healthy eating, exercise, and stress management.

The goal is to help you achieve balance in all areas of your life so that you can feel your best.
The Coach Provides Support And Guidance Throughout the Program to Help Participants Reach Their Goals
As a coach, I provide support and guidance to participants throughout the program to help them reach their goals. This includes setting up an individualized plan for each participant, providing feedback and resources, and offering encouragement along the way. I also collaborate with other team members to ensure that each participant has the best possible experience and outcome.
Is There Anything I Need to Do before Starting the Balanced Babe Holistic Lifestyle Nutrition Coach
Are you thinking about becoming a holistic nutrition coach with Balanced Babe? Great! Here are a few things to keep in mind before getting started.

1. Get certified. In order to be a successful holistic nutrition coach, it's important that you have the proper credentials. The best way to do this is to get certified through a reputable organization, such as the National Association of Nutrition Professionals (NANP).

This will ensure that you have the knowledge and skills necessary to help your clients reach their goals. 2. Create a niche. When starting out as a nutrition coach, it's important to create a niche for yourself.

What are you passionate about? What population do you want to work with? Once you've answers these questions, you can start marketing yourself as an expert in that area.

This will help you attract more clients who are looking for help in that specific area. 3. Develop your coaching style. Every coach has their own unique style – and yours should be no different!

Take some time to think about how you want to interact with your clients and what methods you'll use to help them achieve success. Do you prefer one-on-one coaching or group sessions? Will you use online tools or meet in person?

Once you've developed your coaching style, stick with it – consistency is key when working with clients. 4 Set realistic expectations . It's important that both you and your client understand what can realistically be accomplished during the time frame of your program together . If someone is expecting miracles , they 're likely t o be disappointed . However , if y ou set achievable goals from the beginning , both y o u an d your client will feel successful at the end of the program .
However, It is Recommended That You Consult With Your Healthcare Provider If You Have Any Concerns Or Questions About Your Health before Beginning Any New Wellness Program
Assuming the question is asking for tips on how to start a new wellness program, here are a few ideas: 1. First, consult with your healthcare provider to see if there are any activities you should avoid based on your health history and current condition. 2. Once you have the green light from your doctor, start slow and gradually increase intensity and duration as you become more comfortable.

3. Choose an activity or activities that you enjoy so that it doesn't feel like a chore. This could be anything from walking to yoga to weightlifting. 4. Set realistic goals for yourself so that you don't get discouraged along the way.

For example, aim to walk for 30 minutes three times per week instead of vowing to go to the gym every day for two hours.
Healthy Balance: Diet for Hormonal Acne
What is a Health Coach
A health coach is a professional who helps people make lifestyle and behavior changes that improve their health. A health coach provides guidance and support to clients as they strive to reach their health goals. Health coaches may work with individuals, groups, or organizations.

The role of a health coach is to help people make positive changes in their lives that will lead to improved health. A health coach does not give medical advice or diagnose illnesses. Instead, the focus is on helping people develop healthy habits and make lifestyle changes that will improve their overall well-being.

Health coaching is a relatively new field, but it is growing rapidly as more and more people seek out ways to improve their health. If you are interested in becoming a health coach, there are many different ways to get started. There are online programs, certification courses, and even some college degrees that can prepare you for this career.
Conclusion
If you're looking for a nutrition coach who can help you achieve a balanced and holistic lifestyle, look no further than Balanced Babe. She has years of experience helping people reach their fitness and health goals, and she's passionate about helping her clients find the perfect diet for their individual needs. Whether you're looking to lose weight, gain muscle, or just feel your best, Balanced Babe can help you get there.